"On my last post, Bacon Alarm Clock, I made a comment about what's next - a robot waiter. Then it got me thinking if anyone has actually invented such a thing. Well here it is... P.S. My favorite is the WA-7."

*********************

Robo Waiter 1 from Hong Kong's Cyber Robotics Technology has shiny lights for eyes and can guide guests to tables as well as deliver orders.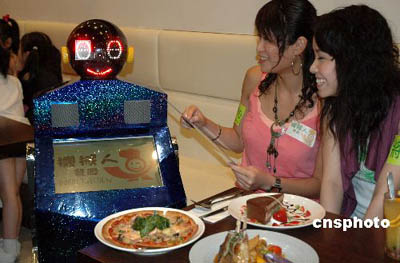 (Robo Waiter 1)
This robot follows Canada's earlier 2001 robot named Jose, the Canadian robo-waiter. Developed for the 2001 Robo-Cup hosted by the American Association for Artificial Intelligence, Jose, the Canadian robo-waiter won the "Hors-d'Oeuvres Anyone?" international competition. Jose is shown below serving a muffin to Minister of Industry Brian Tobin.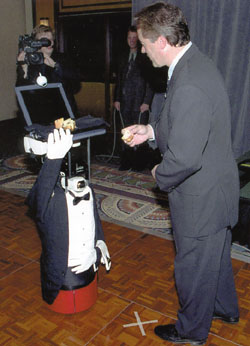 (Jose, the Canadian robo-waiter)
José was designed by a student team led by Professor Jim Little of the Institute for Robotics and Intelligent Systems and the University of British Columbia. Science fiction fans may recall Star Wars' Artoo Detoo in an identical pose.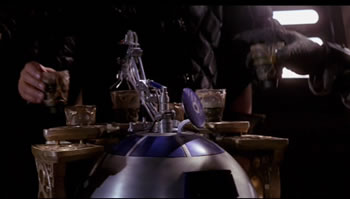 (Artoo Detoo waiting on guests on Jabba's sail barge)
And don't forget the waitress robot WA-7, the robotic waitress from Dex's Diner in Star Wars II Attack of the Clones.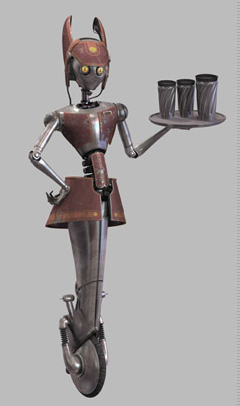 (WA-7 robotic waitress)
Now I'm afraid to say, "what's next, a robot banquet manager"?